With the greatest eCommerce software, you may start a business selling handbags and purses.
Create your own online store for handbags, shoes, and accessories!
With a well-designed web store, you can show off your handbags, shoes, and accessories in the best light possible. We combine all of the features of an excellent website to provide your customers exactly what they want.
A well-designed online fashion store offers an endless number of items, categories, and qualities, as well as flexible promotions, coupons, gift cards, reviews, and other features. Whether your label is well-established or just getting started, we can create a website that attracts visitors and gets you noticed.
The Handbag and Purse Industry is Continually Expanding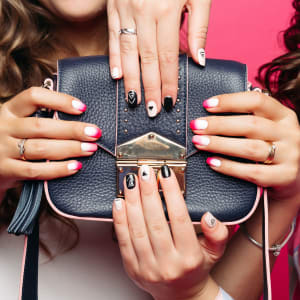 Handbags will never go out of style, whether they are used to complete an ensemble or to carry essential daily goods (or both). In fact, as more alternatives become accessible and more buyers discover they can find the perfect bag for any occasion, the industry is only growing each year. Furthermore, new designers are always emerging on the scene, eager to compete with the industry's greatest names by launching their own label. It's a fantastic moment to join the industry!
If you've always wanted to create an online handbag store, all you need is a little expertise, a solid plan, and the best eCommerce software. Your online store will be equipped with plenty of tools to help you establish and grow your business, and you'll be able to provide your clients with the compelling shopping experience they desire.
Handbags, Purses, and Accessories to Sell on the Internet
When you decide to sell handbags online, you open up a big market with a lot of opportunities. You can focus on any or both of these extremes, or even somewhere in the centre with purses that are created to mix fashion with practicality, because handbags have both practical and fashionable uses. Handbags are available in a range of price points, from low-cost carryalls to high-end designer purses, so there's something for everyone. You can select any type of handbag that corresponds to your brand's objectives.
You also have a lot of options in terms of style, material, manufacturer, and other factors. You might sell mass-produced handbags that everyone knows, or you could sell handcrafted purses manufactured by local artists. While leather has traditionally been a popular handbag material, there is a rising market for vegan items that do not use any animal-derived materials. The options are nearly unlimited, thus the most essential thing for your business is that you pick a niche that suits you best.
Developing a profitable website for bags, shoes, and accessories
Know who you're trying to reach
Visitors to a fashion and accessories website should have a one-of-a-kind experience. Our design team recognises the needs of the target audience and creates a user-friendly website that combines all web design aspects.
Professional photography and photos
A well-balanced, engaging, and eye-catching shot is required for a fashion website. The website comes to life thanks to the usage of professional photos. It accomplishes the goal and boosts credibility.
User-friendly design
No matter which device it is viewed on, the website design should be uniform and straightforward. It's critical to cater to users of desktop computers, mobile phones, and tablets as technology usage continues to expand. Only a responsive website will allow you to do this.
Content that is original The content is king on any website. The website's personality and style should be reflected in the words and information used. The user's emotions should be stirred by the information.
Taking in Leads
Your website's main goal is to collect leads and turn them into sales. Only through establishing credibility and trust with your customers will you be able to do this. You will be effective in capturing leads if you provide all of the information that your clients require.
You Can Sell a Variety of Bags and Accessories
Budget bags on the middle tier
Bags by designers
Handbags for women (to match a larger handbag, or alone)
Bags created to order or by hand
Handbags that are either vegan or environmentally friendly
Bags for men and women, as well as satchels for men and women.
purses for the evening
Handbags for cheap
Handbags that are different from the norm (fun shapes, cartoon prints, etc.)
Handbags that are suitable for use outside and that are waterproof
Bags for travel (theft-proof, RFID-blocking, etc.)
Briefcases
Luggage that is compact.
Wallets and change purses are two of the most common items found in people's pockets.
Makeup, sunglasses, and other small items are kept in little cases.
Kits for maintenance and cleaning (for leather, buckles, etc.)
This is just a sampling of the vast array of products available, which include all types of handbags and related accessories, as well as men's and women's products. It's up to you to decide what kinds of things you'll sell and who your target market is when you start an online handbag store. Remember that selling accessories to go with your main product line is always a good idea; this helps you to upsell to customers by suggesting goods that will go well with their purchase.
Example of Web Design
In sales meetings, face-to-face encounters, and direct mailings, our print design work gives our clients an advantage.